How To Use A Sex Swing | + 3 Types of Sex Swings & the Best Sex Swing Positions!
*As an Amazon Associate we earn from qualifying purchases. We also earn from other affiliate programs. The price to you remains the same in all cases.
Couples are getting more and more experimental in the bedroom – trying out a few acrobatics here and there to spice up their love life.
The sex swing, similarly to a sex couch, comes in as more of an enabler of otherwise difficult sex positions or suspended sexual positions, taking the weight out of your equation so you can just focus on being creative while achieving fantastic orgasms.
Sounds like something we all want, right?!
Well, a sex swing isn't always a beginner's sex aid item, but don't worry about the basics because I am here to show you how to use a sex swing and how to get one working for you.
I will make this short guide as practical and simple as possible so you aren't left floating.
Ready for the dive…?
What Is A Sex Swing, Really?
Just from the name, you can already pick out that it is a harnessed suspendable swing made for your bedroom affairs.
Personally, I like to think of sex swings as a position aid tool. It allows my partner and I to defy gravity and have sex in otherwise impossible positions.
It's also popularly referred to as a sex sling.
These adult play contraptions vary in shape and size, made from either rope, fabric, or leather. They have different reclining angles (full or partial) – so you can choose your comfort zone.
They also come with other accessories like door mounts that help convert your sex sling into door swings if you'd like "a change of scenery".
Nonetheless…
Before introducing a sex sling to the relationship, you should first prep yourselves and talk it over to make sure both of you are on the same page.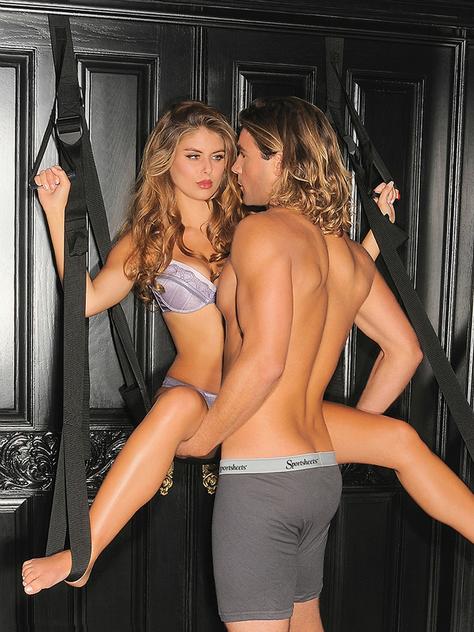 Sportsheets Sex Swing – Over the door
How Do You Use A Sex Swing Safely?
Suspended sex needs a lot of critical planning if you are going to enjoy your swing without any injuries.
For instance:
You need to find enough space in your home where you can freely mount and use the swing while still keeping your affairs private.
For mounted swings, you don't just need space to mount them, but you must ensure that your ceiling is strong enough to support it and the additional weight once you and your partner strap in.
You also need to ensure that the straps and seat are comfortable enough for your partner. Keep checking on how they are fairing during your playtime to make necessary adjustments where they are needed.
Remember to firmly fasten adjustable straps to avoid bruises on your wrists and ankles during movement. This will also guarantee that no one will be falling off at the height of the moment.
Lastly, be sure to find a safe place to store your swing once you unmount. We recommend that you keep your swing in a dry place free of moisture to keep it in good health for a long time to come. (After cleaning it up, of course)
Hint: You can opt for sex swing accessories such as headrests when you're aiming for prolonged use to prevent getting a stiff neck. You can also throw in some bondage cuffs if BDSM play appeals to you.
Should You Get A Sex Swing?
People choose to add sex swings to their arsenal of erotic gear because of the exciting prospect of suspended intercourse. Still, below are 3 other benefits we have gathered that come as a result of owning a sex swing:
Sex swings give partners more freedom to switch positions and momentum. You can rotate your swinging partner back and forth and experiment as you please.
The grounded partner gets unlimited access to their suspended partner, allowing them both to get as flexible as possible without fear of getting muscle cramps. No more lifting and pinning to walls anymore.
The kind of physical application needed when using a sex swing also provides a good avenue for burning some calories. You wouldn't need too many apples to keep doctors away in your case.
3 Types of Sex Swings To Consider
To better understand how to choose and use a sex swing of your choice, you'll first have to acquaint yourself with the three types of sex swings available on the market today:
1. Door Swings
Door swings are easy to install since all you have to do is mount them over the door (provided you have a door beam if you have the regular sex swing). They usually come with lots of straps for the footrests, arm, and body support.
The only bummer with door swings is that they can limit your movements since there is a door on one side, which, anyway, can also act as a backrest for added support.
They are usually the cheapest option and most convenient for people living in apartments or regular travelers.
2. Sex Swings
These are a common mental image, usually made of leather or synthetic fabrics, looking like heavy-duty contraptions.
They are usually more expensive and require a high ceiling to be suspended from.
They, however, offer the most freedom in terms of movement so you and your partner can go really hard on it.
3. Sex Slings
Slings, however similar, differ from sex swings due to their simpler design.
Sex slings also require a steady ceiling suspension and have lots of straps to support your arms and feet as well.
Setting up a sex sling is easier compared to a sex swing and offers a variety of mobility options compared to even door swings.
What's more…
Sex slings tend to be more affordable, making them the most common option among beginner couples looking forward to making love in the air.
4 Best Sex Swings in 2023
Here are a few great top-performing sex swings that tick every box on matters safety and pleasure:
Top Features
Super-comfortable in multiple positions
Carries up to 308+ lbs
Strong C-Shape support frame
Adjustable height and angles
If your house has a high ceiling, then the Purple Reins is your ideal choice!
Lovehoney, the manufacturers, think it's so good-looking that you should never take it down, but that's entirely up to you… *wink
This hammock-style swing is very stylish in its design, made from strong fabrics rather than the chains and leather that scream 'KINKY' at first sight. This makes it more discreet on a 'first-sight' basis.
Not only is this sex swing good looking – all dripped in purple and black – but also very comfortable thanks to extra padding at the base for your sitting allowance.
The Purple Reins is made from synthetic nylon that's soft on the skin and doesn't cut blood supplies which normally leads to muscle cramps after prolonged use.
This swing also comes with an industrial grade C-shape support frame that safely holds up to 140kg (308+ lbs) without flinching. So, no need to worry about falling because of a loose nut yanked off the ceiling.
Top Features
Padded stirrups for extra comfort
Fully adjustable straps
Support bar with extra stability
Carabiner clips, chain, and spring for safety
Affordable Price
This sturdy love swing by Lovehoney will have your adventurous soul burning through the pages of the Kama Sutra trying to find explorative sex positions.
The Bondage Boutique sex swing assures you of premium comfort and stable weight support all through your suspended tango.
The two body straps and 2-foot stirrups are padded with faux velvet so you are not left with red tension marks on your skin after bumping with your partner.
The stirrups are also fully adjustable, so you can explore different positions and take your sexual encounters to new heights – like literally!
You don't have to worry about your safety or that of your partner using the Bondage Deluxe. It comes fitted with an industrial strength support frame, with clips, chains, and an exceptionally able spring that won't let you down (pun intended).
Oh! This swing can hold up to 150 kgs (about 330 lbs), so size really doesn't matter and it is one of the cheapest swings around.
Top Features
Great if you don't have a lot of space
Supports up to 325 lbs
Easy to assemble/pack
Strong acrylic barbells for door support
Door jam swing for upright intimacy
Very affordable
Not everyone has a lot of space available for bulky sex furniture, but pretty much everyone has a door at home! "Over the door" Sportsheets brings you a new way to get creative in the bedroom with the Door Jam Sex Sling.
This exciting kit eliminates any worries about stamina so you are left with a blank canvas to try out your imagination on.
It is so easy to set up, that all you have to do is place the hooks above your door, close it, and you're good to go.
Like the Bondage Boutique, it also comes with a padded seat for extra comfort, hand straps for stability, and footrests for your leg support.
Now, these are all adjustable, giving you infinite positions to work with.
The straps and seat are made from comfy polyester, and it's also machine washable so you don't have to worry about cleaning up after.
This sling is also very affordable.
Top Features
360-degree rotation
Holds up to 330 lbs
Eye mask and cuffs included
Comfortable, padded straps
For those a bit less Vanilla than me, this swing has some great add-ons!
Dominatrices assemble and get yourselves the Deluxe Fantasy Bondage Swing for those gravity-defying erotic stunts you have always fantasized about.
The 360-rotating swing enables you and your swinger to try out back-bending sexual maneuvers with so much ease.
Testing your agility and creativity has never been this satisfying.
Made from strong synthetic nylon fabric with padded support straps and stirrups, this beauty lets you sit comfortably while having the ride of your life up to the perfect climax.
It also comes with added accessories including an eye mask and detachable wrist and ankle cuffs so you can explore all your kinky bondage options.
This beauty can take up to 330lbs/150kg without squeaking against the ceiling, door, or wherever you choose to mount it.
5 Best Sex Swing Positions To Try
1. Reclining Missionary
Here, the partner being penetrated (bottom) essentially lays with their back on the swing and firmly clutches the straps for support.
The top lover then penetrates from a standing position which also gives room for manual clitoral stimulation.
A true way to see the stars…!
2. Doggy Style (Of course…)
The bottom partner lies face-down on the swing, with one strap on the chest and the other supporting the belly.
Stirrups are an added advantage here since the bottom person can secure their feet in them. The top can then do their thing from behind.
3. Lie-Back
For the Lie-Back, the bottom partner fastens one of the straps behind their mid-back with the other steadily supporting their booty.
Afterward, place your legs on your partner's shoulders and let them work the magic.
4. Cowgirl Swingin' (Yee-Haa!)
Here, the penetrating partner sits back on the swing, while the other mounts them in the cowgirl position.
Then…
While moving their body, the cowgirl holds on to the straps for support. You can bump and thump all you want from here onwards.
5. The Pterodactyl
This position is a little technical but the results are definitely worth it.
The bottom's legs go through the middle strap which rests under their thighs. You can place their legs on the stirrups and hold onto the straps for support.
This leaves the top partner with all your peach exposed to work with – ideal for anal lovers.
How to Use a Sex Swing – Frequently Asked Questions
1. How Do I Choose A Sex Swing?
There are a few factors to consider when choosing a sex swing – like the house you live in for instance.
If you reside in an apartment, door swings are the best option, while if you have a strong ceiling, mounted swings can work wonders for you.
Also, you might want to get a swing that is within your budget, and comfortable for both you and your partner.
2. Do I Need To Install A Hook in My Ceiling?
You don't always need to install hooks in your ceiling when setting up a sex swing. Nevertheless, hooks are usually the best option.
You also have the option of using a separate sex swing stand but you will need to check your swing/sling to make sure it is compatible with the stand since they all have different structures.
Swings usually have 1 or 2 mounting points, while slings require up to 4 mounting points. So, ensure you match all the points and you'll be good to sail.
3. What Swing Works Best for Plus Size Users?
For plus-size users, safety and comfort are usually the main concerns, so getting a swing with more mounting points helps reduce the weight on each point.
I would recommend a dual hook or a 4-point mount to ease your worries.
You also want to consider a swing with a wider base room and quality fabrics and straps for comfort.