What is Sex Furniture? 6 Types of Sex Position Aids for 2023
*As an Amazon Associate we earn from qualifying purchases. We also earn from other affiliate programs. The price to you remains the same in all cases.
Sex furniture has been a massive hit with many sex connoisseurs and is still gaining ground in more and more bedrooms today.
But did you know they can actually act as a sex position aid?
Related Articles: Best Sex Couches and Liberator Wedge Review
Sex furniture is a kind of contraption specifically designed to help you during sexual activities and can also act as an aid or positioning tool.
According to The American College of Obstetricians and Gynecologists, nearly 3 out of 4 women have experienced pain during intercourse at some point in their lives. For some, that pain is temporary, for others, it's a long-lasting issue that affects their sexual life.
While some pain is caused by gynecologic problems such as cysts or endometriosis, others experience things like knee, leg and hip pain. Position aids can help overcome some of the latter issues.
Moreover, as we age and lose flexibility and muscle strength, position aids can help us enjoy sex in a very comfortable way, even when adopting positions that defy gravity. In that sense, they are not very different from other types of aid people use to assist with everyday tasks.
In this article, I am going to talk about the different types of sex furniture, their benefits, and how they have advanced people's sex lives over the years.
1. The Sex Wedge/Sex Ramp
Sex wedges are usually smaller, like sex pillows. They are made specifically to support certain areas, such as lifting your hips, raising your thighs and knees, and also positions that may strain your arms during sexual activity.
They are mostly triangularly shaped (when looked at from the sides), as one end is larger than the other and is gently angled down.
A sex wedge can be used under the hips, as the smaller part goes under your back or under your tummy – in both cases, the wedge allows for the pelvic area to be lifted effortlessly.
It helps you comfortably change positions and angles easily as you try out new things with your partner.
The sex wedge helps you achieve deeper penetration and reach certain places you couldn't think you would. It also enables you and your partner to experience satisfying and comfortable intimacy as it angles your bodies closer.
On the other hand…
A sex ramp is a sloping top that helps provide more support for your back – while some models are shaped similarly to a sex wedge, they tend to be bigger and higher. Ramps are used to support and elevate your hips, which helps to position specific angles more easily.
It can be put together with a wedge to help some other sexual positions easy to hack.
Moreover…
Most sex wedges and sex ramps have a removable cover that you may take off and wash in a washing machine. Cleaning will help you curb the spread of potential diseases and should be carried out after each use.
Both the sex wedge and sex ramp are masters of disguise. This makes them fit easily with the home décor hence can't be spotted quickly by other people.
In fact, I often use mine when reading a book.
Examples of Wedges/Ramps in the Market:
Its unique shape helps enhance penetration and assists a much-controlled thrusting – even angles that assist in balancing out height differences.
Can you grasp such a moment!?
The Flip Ramp series is among the most incognito sex furniture we have in today's lineup.
It can also fold into a compact cube perfect for kneeling positions while also retaining traction on the bed. It's also quite an affordable item, considering how useful it can be.
The wedge ramp combo is a 2-in-1 type of product, with 2 ramps that can be arranged and re-arranged in many different ways to suit your and your partner's needs. It's so surprise that this wedge combo is one of the most popular products in the Liberator's range.
I strongly recommend this product if you and your partner have quite a significant height difference. Nevertheless, the possibilities for different positions and pain-free sex are enormous!
Sex Pillows
A sex pillow is a "pillow" made from very firm foam! It comes in different shapes and sizes, specifically for promoting comfort and assisting positioning during sex.
With that said…
Most sex pillows are made up of a firm foam surrounded by padding and machine-washable, removable clothes.
Sex pillows help you try new angles and sex positions comfortably without fear of straining your back muscles.
Ouch.
They ensure that you and your partner are comfortable first, then last longer in bed.
Who wouldn't want such an experience?
In some instances, a sex pillow will enable you to be intimate without worrying about pain and go beyond and try kinkier play. This is because some of these love pillows are designed to accommodate bondage.
And on top of that…
Most sex pillows also help people with difficulty in moving by supporting their backs and hips, reducing pressure on their joints, and even allowing for a wide range of movement when adjusted properly.
Examples of Sex Pillows:
The Heart Wedge offers a comfortable incline for G-spot positioning and deeper penetration during lovemaking.
This portable version of the Wedge blends passion and fashion as a positioning aid that also acts as a décor pillow.
This design looks right at home on top of the bed because it is covered in ultra-soft velvet material in designer colors to match your bedding.
The cute heart shape also does a great job of making this wedge more discreet.
The Pulse Pillow is a sex-toy mount with two pockets: one for a dildo or G-spot massager and another for a small vibrator that targets the clitoris.
It has a lower height from the ground and a much narrower width, making it ideal for straddling when in action.
Its arched design makes it a great hands-free self-thrusting pillow, and it attaches to toys and vibrators with a base ranging between 1.25 to 3 inches.
This is a pillow-shaped sex toy mount that allows users to do whatever they desire.
With its two secure toy pockets that enhance your solo play, the Humphrey puts a modern spin on your traditional pillow humping.
When the mount is not in use, nobody will know that the discretely shaped Humphrey is there because it fits in King-size pillowcases and has a removable, machine-washable soft cover.
And as if that's not enough…
Its foam base is protected by a moisture-resistant inner liner which prevents it from rusting and makes it more durable.
3. The Sex Couch
Sex couches are the ultimate sex position aid tool! You could probably replicate the entire Kama Sutra repertoire using them. They are also a big investment as they ain't cheap! But if you can afford it and have the space in your house, they are worth every penny!
A sex couch is made specifically to help reduce pain and pressure during your sexual entanglement that makes you not enjoy the moment.
Sex couches are mostly built to accommodate couples (or even threesomes)! Their strong frame and firm foam make them suitable to support your and your partner's weight.
That said…
Sex couches can be great position aids for those who are not champion acrobats (possibly most of us!), but still like to enjoy intimacy and explore their partner's body in different ways and positions.
It's also massive relief for people whose mobility is, for whatever reason, more limited.
Some sex couches are modified with D-rings and a bespoke tool to assist in bondage play.
Examples of Sex Couches:
Cello Chaise is a new addition to Liberator's vast range of sex position aids. It's a bit smaller than Liberator's Esse Lounge (better for small spaces), but the price is also considerably lower and will allow you to enjoy different sex positions in a very comfortable and supportive way.
The classic 'wavy' shaped couch comes with a machine-washable cover!
The Liberator Equus Wave has five distinct versions – it goes from bench to ramp to sex couch! It can be arranged parallelly, perpendicularly, used separately, or fit two opposite shapes together to create an ideal and quiet bench for riding.
Liberator Equus Wave, a convertible, blends well with home furniture and hence can be used as home décor when not in use.
Many couples love it because it helps reduce pain in the joints during intimacy which will, in turn, increase the amount of pleasure you get.
Liberator Equus Wave also has a removable, waterproof, and easily washable micro-velvet cover that is easy to clean and durable.
4. A Positioning Chair
A positioning chair serves to accommodate you and your partner by decreasing pain and strain in your knees and other joints and making you experience better "on-top" positions.
This may include the cowgirl and reverse cowgirl positions (where the lower partner has more control in this case).
Some are made in a way that you can't differentiate them from the normal chair, hence, also matching in with your home décor.
Examples of Sex Positioning Chairs: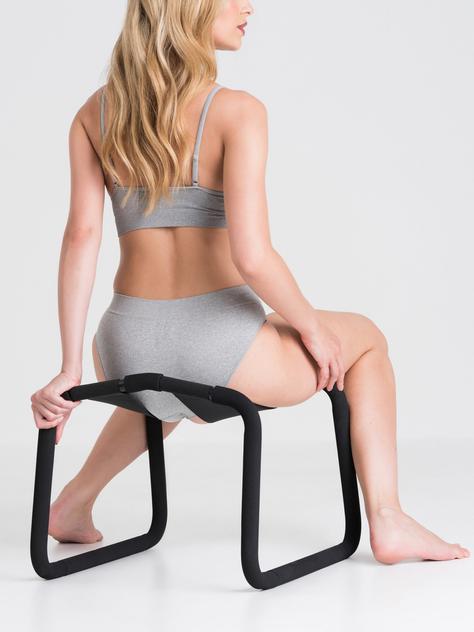 The Bondage Boutique Sex Position Enhancer Chair is the perfect position aid if you want an 'easy ride' on top – instead of relying on your legs to support your weight, this chair does that for you. If you enjoy being on top, this chair will allow you to move like never before.
But that's not the only position or use for this device! It can be great for oral sex.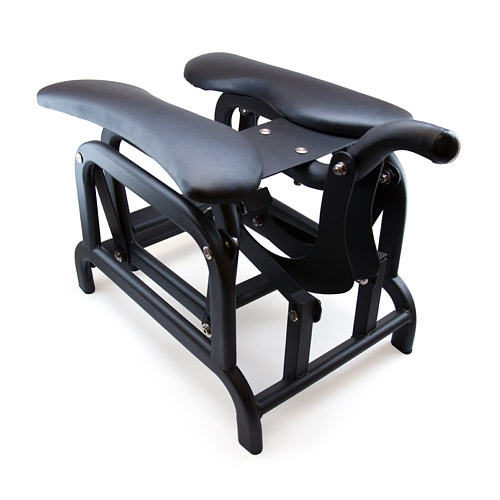 If masturbation is becoming uncomfortable, this chair could provide the answer. The Ride-On Sex Chair is propelled by your body movement.
You can rock back and forth while seated on top, and its mechanics will move the attached dildo (5" insertable length) in incredibly satisfying ways.
The chair is made of steel and has faux-leather leather seats, making cleaning and maintenance easy.
It can support up to 440 pounds and doesn't need a second partner for it to function.
5. Sex Bench
A sex bench is classified as a BDSM tool for those interested in some kinky play. But, as a vanilla person, I think there's more to a bench…
It's also meant for anyone who might require extra help getting into difficult positions they feel would maximize their pleasure. This encompasses physically impaired individuals and those not comfortable during intimacy in bed.
All in all…
Not all sex benches are the same.
Someone may consider buying a sex bench with various add-ons, which include restraints that enable different degrees of leg spreading. Others value the slope of certain benches, which allows for a deeper or shallower penetration.
Examples of Sex Benches:
This bench (mentioned earlier in the article) duplicates as sex wedge and sex couch.
Although this bench is designed with spanking in mind, when I see it, I think of how comfortable my knees can get during (some very vanilla) sex.
Of course, if kink is your kink, this bench would make a fantastic addition to your BDSM arsenal. It's mainly designed to enhance spanking during bondage and other erotic plays that involve restraints.
It comes with 4 in-built D-links for cuff or rope attachments and has soft microfiber material covering its body.
The best thing about this piece of furniture is that it is smaller than your typical bench and, therefore, easier to move around the house/bedroom.
6. Sex Swings and Slings
A sex swing is a contraption that raises and suspends another partner off the ground while allowing the other partner (or partners) to move around them while having sex freely. Some models can be used in bed to allow your legs to stay 'up in the air' for long periods of time and, most importantly, pain-free.
Sex swings offer you flexibility and a variety of spices during your sexual activity.
They are typically made of fiber, rope, and leather, which can hold your body comfortably and safely.
Interestingly enough, is that most people love sex swings because it helps them change positions easily and even try new positions initially out of bounds.
That aside…
Cleaning any sex toy is extremely important, particularly if you're using it with a partner.
Therefore, cloth sex swings should be cleaned in washing machines, while nylon or leather swings should be cleaned with antibacterial soap and water.
Examples of a Sex Swing include: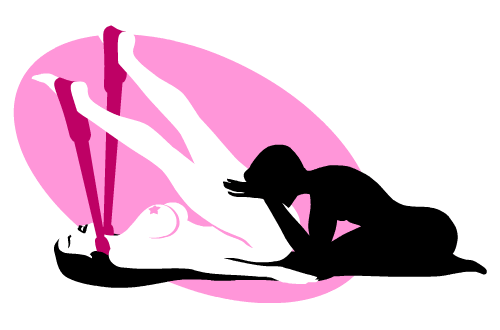 The Orgasmic Position Sling will allow you to lift your legs to new heights and, even better, it will make it easier to keep your legs up there for long periods of time – effortlessly!
You will feel like some sort of yoga guru during penetrative sex. This sling is a fantastic aid for knee and leg pain.
This device is also very affordable!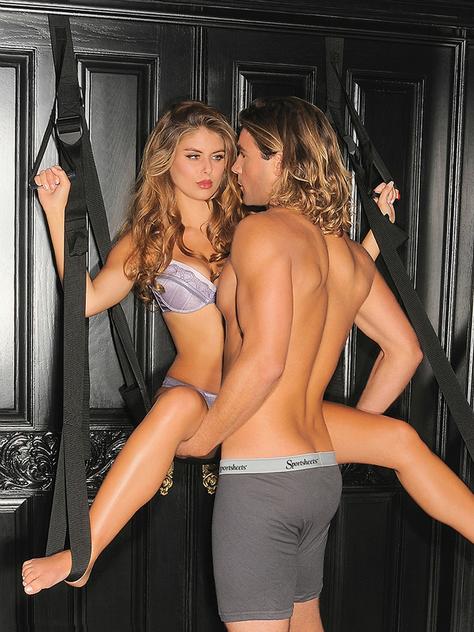 Have you ever tried having sex standing up? I have, and it was a disaster! I don't think my partner and I lasted 5 seconds.
That was before I discovered sex swings and all the possibilities!
The Sportsheets Sex Swing Door Jam Kit is a great budget device that requires only a door (no screwing hooks on ceilings etc). With that in mind, standing-up sex becomes accessible and possible!
Frequently Asked Questions
1. What Do You Need to Look at When Buying Sex Furniture?
You need to look at the shape of your sex furniture first since it has to fit its intended use.
What's more…
You should also pay attention to the size of your sex furniture since people have different weights, and you have to make sure that it accommodates you and your partner comfortably.
On the other hand…
You also want to consider discretion because I am sure you don't want to have stuff shouting "Sex!" all over your place.
There are a lot of sex furniture (like our top picks, for instance) that have a unique design that makes them blend in with the rest of your house decorations.
Given that…
You should take into account the material used to build the love furniture. If the material is scratchy, sticky, or even uncomfortable, then you won't enjoy sex as a result of getting flaky or irritated skin after each use.
Lastly…
You should also watch out for the price of the piece of furniture you want. You should compare prices of your intended sex furniture and get one that fits your budget.
2. Why should I Own Sex Furniture?
There are plenty of reasons why you should own a piece of sex furniture:
They are a major help in pain prevention during sex. It helps people suffering from joint problems and other physical conditions to have better, wholesome sex lives.
They'll help you explore different fantasies and feel much more comfortable when doing so. Most Sex Furniture comes with a manual to help you know the best positions to try while using it.
Sex furniture acts as an investment. People with a lot of disposable income usually find owning a sex couch more of an investment for their sex lives if they value good sex.