Our Guide To The Best Magic Wand Vibrators For Magical Sensations
*As an Amazon Associate we earn from qualifying purchases. We also earn from other affiliate programs. The price to you remains the same in all cases.
Magic wands, personal massagers, body wands, whatever you want to call them, these sex toys are some of the most orgasmic vibrators on the market. Powerful enough to work a knot out of your muscles, they're amazing at bringing you to an intense orgasm. The Magic Wand Rechargeable remains one of the best, but the Bed Geek Wand Massager shouldn't be discounted either!
Read on to find out more of our favorites and the best magic wand vibrators.
Our Top Picks
Table could not be displayed.
The Magic Wand Rechargeable is a new version of the Original Hitachi Magic Wand. The Original was incredible, but the improvements by Vibratex for the new version are mind-blowing.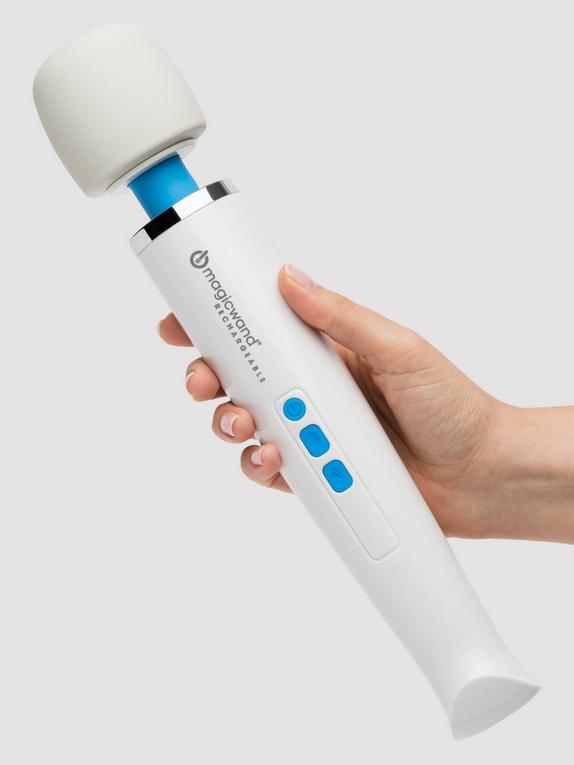 Firstly, it's rechargeable. It can be used completely cordless, but it can also be used while it's plugged in with the 7 foot cable. It takes three hours to charge, and holds the charge for three hours. It also has an automatic shutoff after 20 minutes.
The functionality of the Magic Wand is still the best in the market. It's quiet, which is always a huge plus, and it has four speed settings. Even the lowest speed setting has incredible power, so this wand is perfect for giving you sensations you've never felt before. This wand has four vibration patterns so you can change things up and find exactly what works for you.
Operating the Magic Wand Rechargeable is simple. It has three buttons. The first is the power button. The second cycles through the vibration speeds. The third cycles through the vibration patterns.
The design hasn't changed much from the original, but why mess with near perfection? However, the head of the new design is better. It's a smooth matte silicone, and it doesn't have a gap like the original. When you're holding it, pretty much only the head vibrates. The ABS plastic body doesn't carry the vibes into your hand.
Overall, the Magic Wand is still the best body wand massager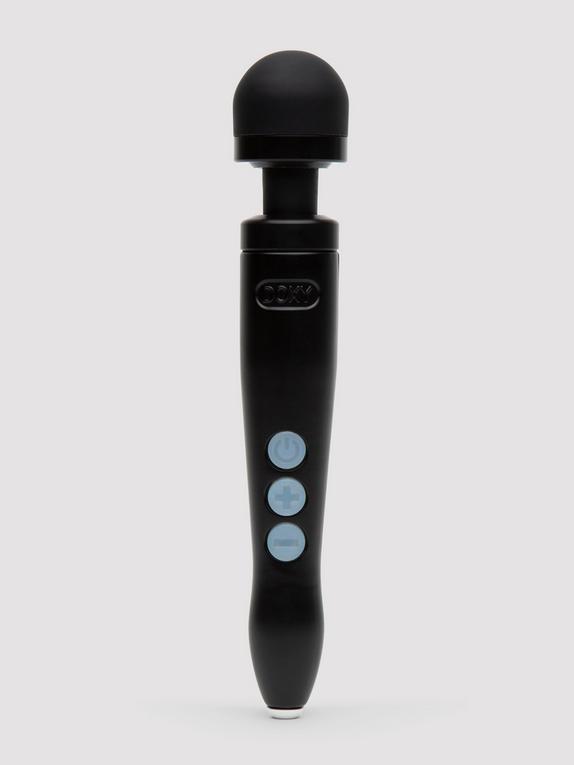 The Doxy Die Cast is incredible. I could just leave it at that, but I'll tell you why it's incredible. First of all, it looks good. It's available in five colors and each of them is very pretty. Secondly, it is one of the most versatile personal massagers ever.
This vibrator can be either corded or cordless. The corded model has a very long 12-foot cable, so it's not a major drawback. The silicone head is soft, and comfortable to use. The metal body has a weight to it, but it's not too heavy in your hand. Instead, it feels sturdy, and powerful.
Power is what this body wand is all about. It has multiple speed settings, and a pulsing vibration pattern. It's easy to operate, with a simple on/off button, and an up and a down button to move through the speed settings.
The vibrations are deep and rumbly, which is what makes this magic wand so versatile. It's just as great at easing aching, tired muscles as it is at bringing you to a mind-blowing orgasm.
The Bed Geek Wand Massager is an extremely affordably-priced magic wand. But it still packs a huge amount of power. It provides intense vibrations that will make you feel amazing.
This personal massager is cordless, so you can absolutely take it with you wherever you go. It has a USB charger and is super fast to charge. The Bed Geek has 8-speed settings, 20 vibration patterns, and it's surprisingly quiet for something with this much power. You can read full details in our Bed Geek Wand Review.
This magic wand massager has so many incredible features. Firstly, it's splash-proof for easy cleaning. Secondly, it's waterproof, so you can use it in the bath or shower. Thirdly, it has a memory feature.
The memory feature is a great feature. If you find a speed setting and vibration pattern that you love, this wand will remember it. You can turn the wand off when you're done, and when you turn it back on, it will restart at the last settings used. It saves trying to cycle through all the patterns to find your favorite.
The Bed Geek Wand Massager is a nice size, comfortable to use, and made from soft, body safe silicone. There are two drawbacks to this wand. One is that it's a little too easy to accidentally turn it off while you're using it. The other is that the vibrations can lean towards buzzy rather than rumbly. It does make it really intense, but it can be a little too intense for some people.
Great functionality. Stylish Looks. Perfect for beginners.
The Le Wand Massager is perfect for beginners, is easy to use, very stylish, and has a big range of intensities.
It's not just the simple and elegant design that makes this wand massager great for beginners. It has amazing functionality, and it's so easy to use. It has a silicone head, and the whole body is wrapped in smooth, premium-feel plastic. It's comfortable in your hand, and just feels nice to touch.
The Le Wand is rechargeable, but it can also be used while plugged in. It has a three-button operation. The '+' button turns it on and is also used to increase the speed. The '-' button reduces the speed. There's a squiggly line button to change the vibration pattern. It has 10 speeds and 20 vibration patterns.
The Le Wand isn't only pleasant to look at, but it's also perfect for beginners to wands, and even beginners to vibrators, because of its functionality. The lower speed settings produce a more 'rumbly' type of vibration, and the higher speeds get a more buzzy. This isn't a bad thing, as it lets you figure out what vibrations you like, and how you prefer your toy to work.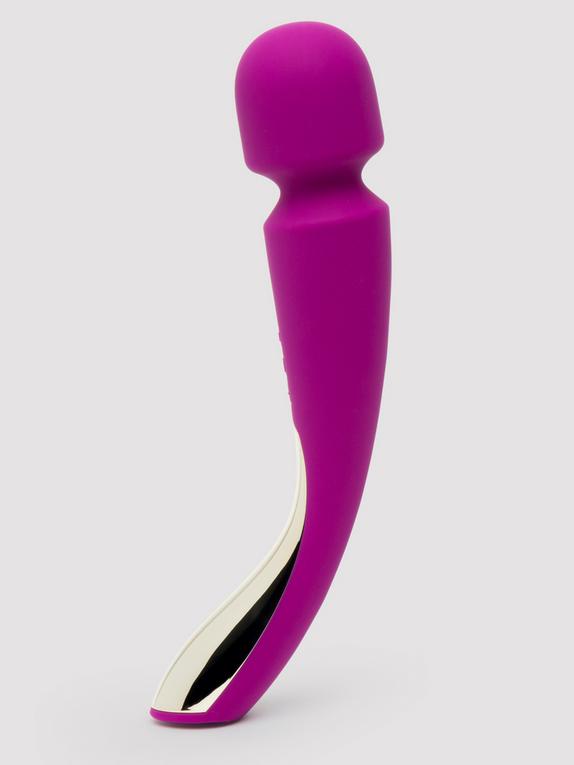 The Lelo Smart Wand has more than enough functionality to satisfy even the most adventurous of souls. It's pretty powerful, and has many different speed and vibration settings. It's ideal for fixing a knotted muscle, and for waves of intense pleasure.
The Lelo Smart Wand is a cordless, rechargeable body wand. It charges rapidly, and lasts 2 hours on a full charge. It's extremely quiet, and comes with a storage case, so it should be your go-to personal massager for traveling with.
The head is made from body safe silicone, and the shaft of the wand is covered with a velvet soft silicone. The material is comfortable to hold, but it also keeps all the vibrations in the head, and not in the shaft or your hand. The shaft has a curve, making it easier for those hard to reach places.
It's completely waterproof. It can be cleaned under water, and more importantly, it can be used under water.
The thing that makes this magic wand really special is the SenseTouch technology. It has 8 pre-set vibration patterns, but while they're fantastic, the SenseTouch technology is just a bit better. You can set the vibration pattern, and highest speed, but when the wand comes into contact with you, it gradually increases in intensity naturally. What's not to love!
What to Consider When Buying a Body Wand Massager
Size
Body wands are generally large in size, and can look intimidating for vibrator beginners, so size should be one of the things you consider. If the size of a body wand is putting you off, you should look for a smaller, more compact one. They can still pack quite the punch.
Feel
Most magic wands have a silicone head which is body-safe, and soft to the touch. However, it's the shaft material that will determine how it feels in your hand, and how much vibration is felt through the shaft. Some people prefer the feel of a smooth plastic shaft. Others will prefer a shaft that is covered in a velvet soft silicone.
Vibrations
Each wand will have its own preset vibrations, speeds, and type of vibrations. You will want a wand massager with different pattern and speed options, but you may have to decide if you prefer a buzzy type of vibration, or a more rumbly type of vibration. Some wands can be rumbly on the lower speeds, but a little more buzzy on the higher speeds. This can actually be a good thing as it gives you the best of both worlds.
Corded Or Cordless
Corded or cordless should also be a consideration, but it probably shouldn't be a deal breaker. Years ago, corded wands were the most powerful as they were taking power straight from the mains supply. Now though, cordless wands are just as powerful.
This one really comes down to how you want to use it. If you're looking for something to share with your partner, or take with you on the road, then a cordless personal massager could be more suitable for you.
Frequently Asked Questions
Are Magic Wands Good?
The simple answer is yes.
The longer answer is that they're amazing. They can massage out sore muscles, which was what they were originally marketed for. They can give you an absolutely earth shattering orgasm. The external stimulation they provide is some of the most intense and powerful sensations you can experience.
Can You Use A Personal Body Wand With A Partner?
Absolutely. Many people incorporate their body wand into foreplay, using it on both partners. While body wands are wonderful for clitoral stimulation, they can also give pleasure to men as well.
If your partner hasn't used a personal massager before, keep it on a low setting and experiment. Take your time and enjoy finding out what you both like.
Are Body Wands Loud?
Wand massagers are usually among the loudest vibrators. This is because they're usually the largest vibrators, and have the biggest, most powerful motors. Having said that, some wand massagers are almost whisper quiet on the lower settings, and only start getting loud when the speed is increased.
Do Magic Wand Massagers Look Discreet?
Yes, and no. They are quite big, which wouldn't really mean that they look discreet and easily hidden away in an emergency. However, they have more than a passing resemblance to a microphone, so you can use that as an explanation (as we did), if you needed to.
If you need something that looks discreet, then you should look for a body wand that comes with a storage case, or pouch.
How Do You Clean A Body Wand?
Cleaning a body wand depends on the brand, make, materials and if it's waterproof. If you're unsure, then toy cleaning wipes are usually a safe bet. Just make sure you choose ones that are appropriate for the material of your wand.
You should clean your wand at least after every use. If you're using it for intimate use, and as a general body massager, you should try to get into the habit of cleaning it before every use as well.
Should You Buy Different Attachment Heads?
Some manufacturers offer aftermarket attachment heads. Generally, a body wand has a large, rounded head. Honestly, it's a pretty great head. The size of the head helps the vibrations travel through your body.
However, if you want to change things up, you can try a different head. You should check that the head on your body wand is changeable. It's usually a good idea to use a head from the same manufacturer as your wand.
Last update on 2023-11-29 / Affiliate links / Images from Amazon Product Advertising API