Sexy Valentines Gifts in 2023: 14 Sexy and Romantic Gifts for VDay!
Are you thinking of the perfect, romantic and sexy Valentine's gift to get your loved one?
With Christmas and New Year already done and dusted, most of us look forward to Valentine's as it is the season for romance and showing love through gifts to our dearly betrothed.
Indeed, while Christmas is mostly about our kids, Jack and I do try to make an effort for Valentine's. I also firmly believe that if you happen to be single, you should still treat yourself with some self-love!
I'll present you with affordable, less sticky, and possibly more exciting gift options than you had imagined.
From body oils and satisfying sex toys to spicey lingerie sets, we've got the perfect Valentine's buying guide to help you find the best gifts for yourself/your partner.
Let's go shopping…
Sexy Valentines Gifts for Couples
"Since Valentine's Day essentially celebrates lovers, why don't you get something you can both enjoy?" I asked myself.
If you think about it, it's a smart and affordable idea that benefits both parties.
And here are some great options that Jack and I would quickly settle for!
Name a better way to spend intimate time together that doesn't involve a soothing massage! To set the scene, how about lighting up a candle? You may also need some oil to allow your fingers to smoothly go up and down their body. How about combining the two?
Maude Burn is a candle made of wax that, once lit up and warmed up, melts into fragrant massage oil. There are four fragrances to choose from (including unscented). Maude Burn's main ingredients are jojoba and soybean oils. The good news is these oils have low melting temperature points – which means the massage oil will feel warm but not burning-hot.
Please note: the flame needs to be fully extinguished before use.
Maude Burn is also an affordable gift under $30. You can get a 15% discount using our exclusive code VANILLA15.
If candles are not your thing, you can go straight for Maude's Body Oil.
The unscented organic body oil leaves you perfectly moisturized, with skin as soft as silk from head to toe.
Other than that…
The coconut bath is also a great option whenever you want to share the tub in a soothing bubble bath.
Don't forget you can get 15%OFF all Maude products with our exclusive code VANILLA15.
Since we are talking about massage oils and massage candles, do you own a massage table?
Massage tables are game-changing! It makes life so much easier for the masseur.
Unless you have enough space for a dedicated massage room (I certainly don't), I strongly recommend a sturdy massage table that is foldable and can be easily put away. Luckily, these days there are many options and most massage table models will handle a fair bit of weight.
Check out this portable massage table.
Now here's to adding that shazam to your bedroom game. I know you already enjoy it, but the extra challenge that a mounted sex swing brings is something you can't afford to miss.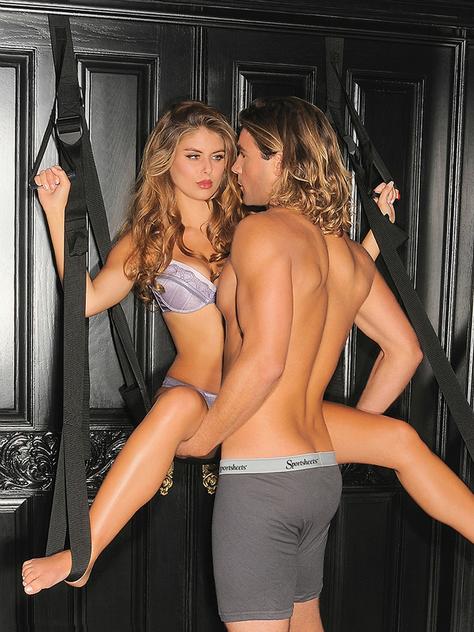 This Sportsheets door jam kit is a flexible and adjustable sex swing that lets you experiment with your sexual ideas away from the bed and makes it possible to defy gravity.
All of that without the need for special technical powers to set up.
Just secure the sling over the door and close it behind you, and you're good to go.
What happens on your side of the door will leave most adult performers dazzled and with great awe.
The foot and hand straps are sturdy and give you a good grip on the swing, while the padded seat ensures you remain comfortable throughout the ride.
I recommend getting this if you or your partner like to experiment with new angles and new depths.
Get your Fifty Shades on with this intense couples playset from Lovehoney. You'll be rushing home after your Valentine's date to open it up and start the fun.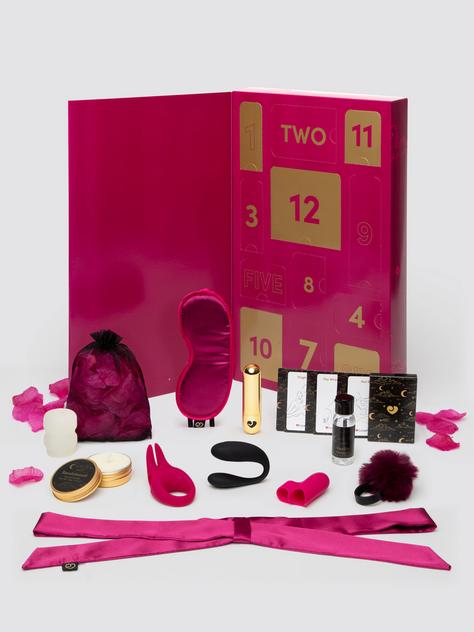 This set goes for only $95, but that's nothing once you start sampling all the niceties it comes with.
What am I talking about?
You get a We-Wibe couples vibrator and a finger-held bullet vibe—all USB-rechargeable.
On top of that…
There's an included bondage set of straps and a mask for when you want to get submissive in your makeshift dungeon.
To crown it all, you can also have your romantic evenings moistened with scented candles and your skin treated with massage oil included in the package.
How's that for a complete Valentine's after-party?
Love hearts scream of Valentine's Day like nothing else! While love hearts are admittedly a bit cheesy and cliche', this wedge pillow from Liberator is actually very useful as a sex position aid.
A firm sex wedge like this one can make sex so much more comfortable.
The heart wedge pillow is one of the best sex position aids under the sheets and doubles up as a cute piece of bedroom decor.
It is covered in super-soft designer velvet and comes in a range of colors to choose from. This makes it easy to pick one that matches your bedding and overall interior design.
Thankfully, it is machine washable, so don't worry about going the extra mile in the heat of your passions.
Make the most of Valentine's promotion at Liberator, by using the discount code VDAY.
Now, we are getting into WOW territory!
A sex chaise is not quite your budget Valentine's present. But if you are after some WOW factor and you can afford it, a sex couch is an amazing sexy gift!
The Liberator Cello is a chaise lounge that effectively helps you achieve new erotic heights. There are so many ways to use it.
Its simple design has dual curves that snuggly swallow your body, giving you comfort and pleasure-positioning in equal measure.
Its cover is also made of a soft micro-velvet that feels heavenly on your skin and doesn't cause irritations. Plus, the covers are removable and machine-washable.
When on a romping break, you can also place the chaise against the wall and relax on it to unwind.
While sex couches are not cheap, Liberator's Cello Chaise is one of the most affordable products on the market. You can also take advantage of the discount code VDAY.
Best Valentine's Gifts for Yourself
Why not gift yourself also with something that'll take your me-time a notch higher?
We have a list of remarkable vibrators I am pretty confident will keep you satisfied. Vibrators are also great to be used with a partner.
Maude Vibe is Maude's original sex toy and it's also one of my favorite toys ever. In fact, I gave it a 5-star (or 5 scoops of Vanilla) in my in-depth Maude Vibe Review.
The Vibe is a 3-function external massager from Maude is quite simple and minimalist, but make no mistake! Maude Vibe is one of the most powerful vibes around, capable of delivering an orgasm very quickly!
Its curved tip was specifically designed for maximum stimulation, and it certainly doesn't disappoint.
Thanks to its single-button functionality, it's easy to use and discreet enough to keep your private business within the confines of your walls.
Also, the Maude Vive runs for about 2.5 hours when fully charged, and it comes with a travel pouch for storing the toy when not in use.
Maude is also a reasonably priced vibrator – usually under $50. You can also take advantage of our exclusive code VANILLA15 for an extra 15% off.
This snug Cuddly Bird is a clitoral suction vibrator that blows a gentle breeze across your clit and will send your pleasure nerves on overdrive.
What am I saying?
It's your ideal companion for when you're going through those cold, lonely nights for whatever reason. It also comes with a mood light that illuminates your surroundings and ensures you are not alone in the dark.
Pretty clutch, right?
The outer covering is made from medical-grade silicone that's soft on the skin and causes no allergy reaction. This also makes it waterproof, so you can take her to the shower or tub and continue the fun.
With 3 suction and 4 vibration modes, your fingers will get the much rest they deserve and pave the way for some of the best edging and orgasms money – or love, in this case – can buy.
Get yourself a piece of this hot TikTok sensation that showers your clit with powerful pleasure waves in the form of suctions and vibrations.
The Rose Toy suction vibrator took the airwaves by storm, starting with its fabulous rose design.
It is smooth to handle and fits in your palm better than a bouquet.
Once you give it a full charge, this baddie can service you for two hours straight before running out of juice.
Of course, the playtime duration will also greatly depend on the settings you use throughout.
The best bit is that it's easy to clean and maintain, and you won't have to lose an arm getting one.
For more information, you can check out our Rose Toy review.
If dual stimulation is your thing, rabbit vibrators are the answer!
The Mantric Rabbit is a dual-function vibrator with a thick shaft and vibrating arm that send good vibes to your g-spot while also doing justice to your clit.
It looks and feels fantastic, with a color-changing control panel at the base that helps you keep track of your favorite vibration settings.
That's some top-shelf creativity there if you ask me. No more fumbling for controls in the dark.
Yay…!
And with 7 vibration speeds and patterns, you can experiment all you want to get the perfect climax with this cute vibrator.
As a dual motor toy, rabbits are often quite expensive. The Mantric is actually one of the most affordable rabbits around!
The Hitachi Magic Wand is an icon!
This iconic massager launched by Japanese company Hitachi in the 1960s became a cultural phenomenon when people realized that, aside from necks and shoulders, it worked magically well for clits!
This "accidental" sex toy is one of the best devices around. Adding this toy to your collection is also adding a piece of history!
The Hitachi Magic wand massager is a fantastic solo pleasure tool. It's pretty easy to operate and a great sex toy option for beginners.
It also comes in handy to soothe aching muscles and massage the fatigue from your tired back.
Switch between its high and low settings, and you'll soon be thanking its Japanese inventors as you soak yourself or relax your strained muscles after a long day at work.
Please note: while the original Hitachi Magic Wand is a corded toy that needs to be plugged in, I highly recommend the cordless version!
The Magic wand's little brother also has a reputation that precedes it among wand massagers.
The size of the original Magic Wand can be a little intimidating and not very practical for travelers. Mini, which is still a very good size, is a great option if you are after something a little smaller but still very powerful and iconic.
Don't judge its mini size and mistake it for a timid fellow. This toy packs 3 different speeds, going up to 6000 RPM.
Can you imagine that?!
And what's more…
It's compact enough to be your perfect travel buddy. Just make sure it's fully charged once you leave, and you'll get 2.5 hours of service out of him.
This new year, don't have bad sex. Take time to know what ticks you off by masturbating more often.
And…
What better way to start this new phase than with the Lovehoney First Time Fun Vibrator Starter Kit?
Since a sex toy newb can't go hardcore at first, this thoughtful set comes with the following:
A classic wand vibrator
Egg vibrator
Bullet vibrator
G-spot massager
These are each designed to ease you into the various types of vibrators without overwhelming you at once. Use them wisely to determine what works for you.
With some good, powered batteries and a generous amount of water-based lube, who cares if you're single on Valentine's?
Frequently Asked Questions
What Should I Look for When Buying Valentine's Gift?
When buying Valentine's gift for your loved one, consider their tastes and preferences, so you get something that excites them.
Ensure to get something you might enjoy together as a couple since Valentine's is essentially a couple's thing.
Also, check for what lies within a price range you can afford to avoid incurring extra costs.
What's the Sexiest Valentine's Gift for My Girlfriend?
The sexiest Valentine's gift for your girlfriend would be a nice lingerie set like the Lovehoney Shadow Lily purple lace bra set or the Fierce Wet Look zipper catsuit.
This goes, of course, if bondage is your thing.
If she is a sex toy enthusiast, the Rose Toy, Maude Vibe, and the Hitachi Mini will make a very thoughtful gift. At least she'll always think of you when she feels it purring on her kitty.
What Is the Best Sex Toy for Beginners?
The best sex toy for beginners would be the Hitachi Magic wand. It is a handy, multi-purpose massager that's gentle on your nerves while also stimulating the erogenous zones of your body.
It has served as the perfect starter kit for new sex toy users and gives most newbs a decent ground to begin their vibrating sex toy journey on.